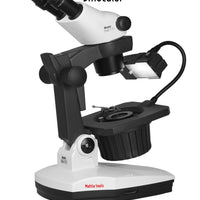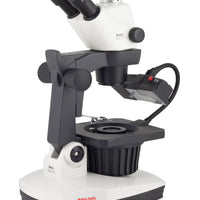 Features
Motic GM171 binocular / trinocular zoom stereo microscopes have standard brightfield and darkfield illumination with 50x standard magnification, no need to add an auxiliary objective lens.
Objective Lens: 0.75x - 5x zoom built-in objective provides continuous magnification. Zoom ratio of 6.7:1.
Eyepieces: Includes a pair of widefield 10x eyepieces, FN23. Viewing head tilts 0-45° range, with dual diopter adjustments, interpupillary adjustment from 48mm to 75mm. Base rotates 360°. Trinocular port for camera allows right eyetube to go dark while directing light to camera.
Total Magnification: 7.5x - 50x.
Stand: Specialized gemology tilting base. ESD Safe.
Stage: Mounting hole for gem holder on both sides.
Working Distance: 110mm.
Focusing: Large dual focusing knobs with slip clutch to prevent damage to mechanism. Tension adjustment eliminates focus 'drift'.
Illumination: 6v, 30w intensity controlled halogen brightfield / darkfield illumination. Adjustable gooseneck 7w fluorescent incident illumination. Main power supply 100v~240v
Warranty: 1 year warranty.
Includes: Aluminum carrying case, wire gem holder.
Specifications
GM-171B
GM-171T
Optical system
Greenough
Observation angle
45°/ 60°
45°
Magnification range (standard)
0.75X--5X
Zoom ratio
1:6.7
Eyepiece 
N-WF, high eye-point 10X(Ø23),  Diopter adjustable interchangeable with biological eyepieces
N-WF 12.5X(Ø18), 15X(Ø16),  20X(Ø13) optional
Interpupilary adjustment 
48mm-75mm
Working distance (standard)
110mm
C-Mount adapter
/
0.5X, 0.65X, 1X adapters available
Photo adapter
/
SY10 photo adapter
2.5X, 4X photo eyepiece available
Auxiliary ESD objectives
1.5X [WD = 56.3mm ], 2.0X [WD = 38.6mm]
Stand option
Incident illumination
7W fluorescent light, colour temperature of 6000K to reduce any yellowing effects on the gem, angle adjustable
Transmitted illumination
6V/30W Halogen
Focusing adjustment
125mm
Stage
Mounting hole for gem holder on both sides. Users can choose the position freely
Tilting base
With a tilting range of 0°(upright) to 45°, accessible to users of various heights